This even has been postponed due to the Covid XBB 1.5 variant. Future date to be determined.
YARI Chili Party
Hosted by Catherine Terry Taylor '83 and Rob Taylor '83
Following the Yale@Brown women's ice hockey game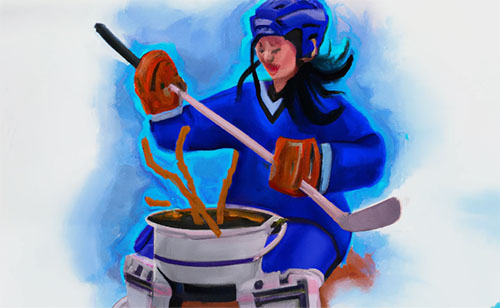 Painting by DALL-E: a female hockey player in a blue uniform stirring a pot of chili
Postponed Saturday, January 14, 2023
4:30 (or whenever the game ends) to 7:00 PM
Taylor residence, 130 Lloyd Ave, Providence map
Hockey game at 2:00 PM
Meehan Auditorium, 225 Hope Street, Providence
Spectator admission is free
After a pandemic hiatus, the Taylors' chili party is back! YARI's board is extremely thankful to Rob and Catherine for once again graciously welcoming Yalies into their East Side home for warm fellowship and hearty chili. (Vegan options will also be available and everything will be gluten-free.) Bring nothing but boola, and family or companions if you like.
Yale hockey: It's a few minutes' walk from the rink to the house, and admission to the arena is free, so come cheer on the Yale women for at least the last period! The game should end around 4:00. Look for a blue "Y" flag on the visitors' side.
Covid protocol: Please consider a rapid test before you attend this indoor winter gathering.
Questions? brian@yari.club